President's Newsletter – April 2018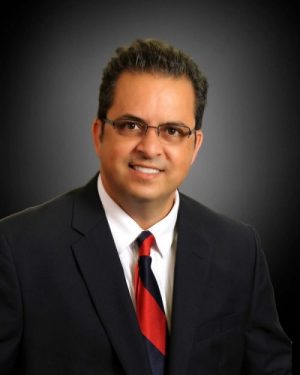 Advertisement
Hang on for a minute...we're trying to find some more stories you might like.
Aloha e Saint Louis School Parents and Guardians,
At Saint Louis School, our motto is "Memor et Fidelis or Mindful and Faithful." There are many ways to interpret the meaning of this phrase. As we approach the final leg of this journey for our 2018 seniors, it is my hope that we have provided the opportunities needed for each of our graduates to find their respective talents and passions while teaching them the beauty of sharing those gifts with others by making a difference in the world. In addition to being mindful, it is my belief that faith is the determining factor that helps our students to persevere in life when they are faced with obstacles that keep them from using their gifts to help others. For those who are Catholic like me, my faith leads me to believe that I am loved by God unconditionally and that helps me when I face adversity. For others, faith is hope. Faith provides the energy needed to continue striving towards reaching the goals we aspire towards.
Tua's win in the national championship is one example of how being mindful and faithful can help people reach their goals. Tua worked hard at his craft to be the best QB he could be. After losing to Kahuku in the state championship, he returned the next year to win it all against that very same team. He studied hard each summer to graduate a semester early and attend Spring practices at the University of Alabama. He could have chosen to attend a university that did not have a successful quarterback entering his sophomore year as with the Crimson Tide, but he believed that God would eventually provide him the opportunity needed to play. Throughout the season, Tua played the role of clean up in games that were blowouts, not complaining when others were calling for him to start in place of the starting quarterback. Finally, when given the chance to start on college football's biggest stage, down by many points, he led his team to victory against all odds in the very last minute of the NCAA Football Championship. Even after the game, he thanked God first and continued by giving credit to his teammates. With people now expecting him to be the starting quarterback, he continues to take a team-first approach with supportive comments towards the person who previously started as quarterback in front of him. Tua's patience will be tested once again this coming season, but I believe his mindful and faithful values will guide him successfully through the challenges he will face.
As you view the pages of this newsletter, keep in mind that you will be looking at pictures that include the next great generation of Crusader athletes, actors, scientists, musicians, politicians and more thanks to the many opportunities made possible through the generous donations of our alumni and supporters of Saint Louis School. Our projections show that we may reach full capacity at Saint Louis School in regards to enrollment next school year and that is a testament to all of you who support this Marianist school and our mission to provide the Six A's of our mission: Akua, Academics, Alakaʻi, Athletics, Aloha, and the Arts.
Memor et Fidelis,
Dr. Medeiros
---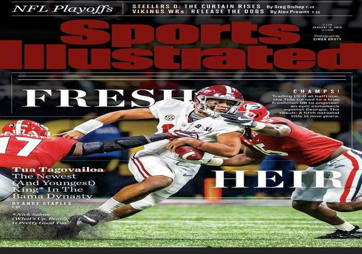 Tua experienced national fame after taking the Alabama Crimson Tide to another National Championship.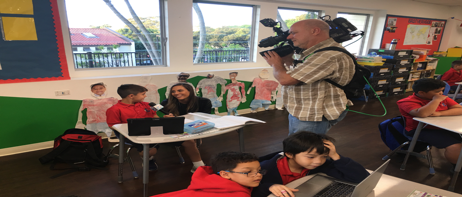 Even our elementary students were interviewed by KHON2 News about Tua!
Chris Sykes shared how it felt to receive passes from Tua as his wide receiver at SLS. Chris is attending Dartmouth University next school year.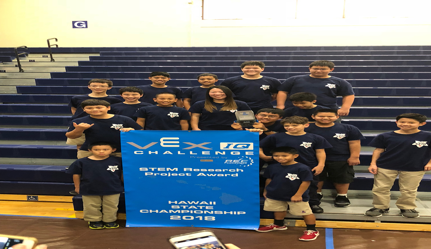 Our middle school Math team, led by Ms. Fung, won the STEM Research project award at VEX IQ.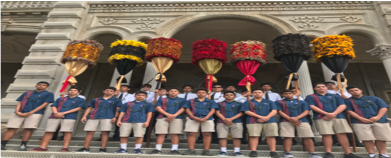 Our students represented Saint Louis School well at ʻIolani Palace in remembrance of the overthrow of the Hawaiian Kingdom.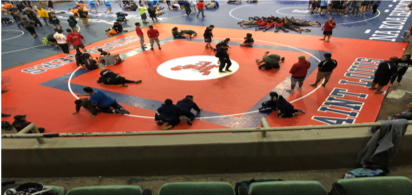 Our wrestling team competed very well this year and our Crusader wresting program continues to grow.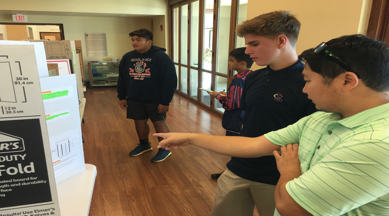 As a judge, Mr. Kawamoto questioned students in regards to the data they provided as part of their projects.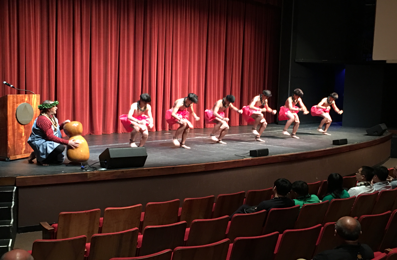 Kumu Keliʻi performed for visitors from China who are considering sending international students our way.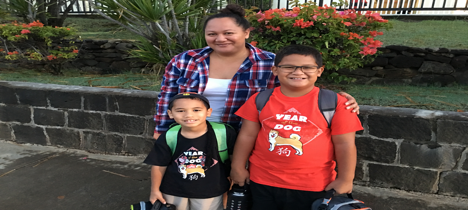 This Crusader mother is in red and blue, while her two sons are prepared to celebrate Chinese New Year.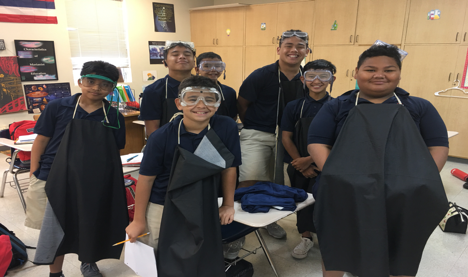 These middle school students took time from science class to take this picture.

Father Pat and Father Allen provided hands-on activities for our elementary students preparing them for Easter.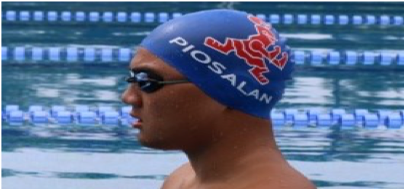 Denison Piosalan represented Saint Louis School very well at the State Championship in swimming.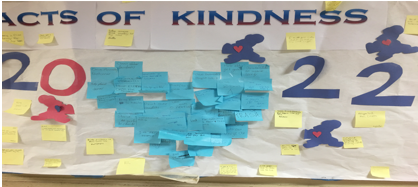 Look around campus and you'll find posters like this one encouraging our students to display acts of kindness.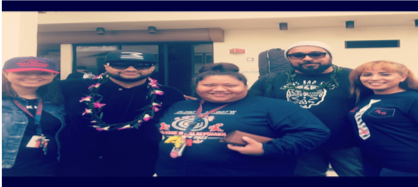 Our Student Council hosted the Common Kings as they visited Saint Louis School to play music for our Crusaders.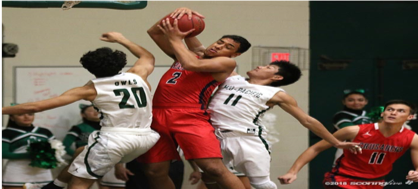 Our basketball team fought hard this school year and we hope to experience more success next school year.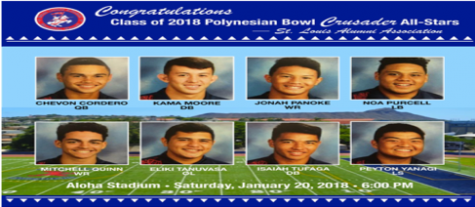 The Class of 2018 Polynesian Bowl consisted of eight Crusaders!

Notre Dame graduate, Mr. Ray, tests his students' skills in physics by challenging them to protect a falling egg.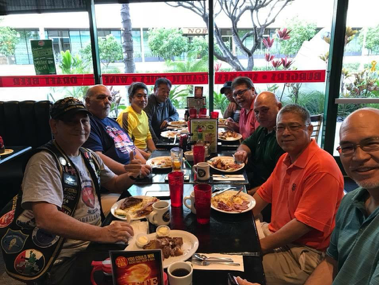 The Class of 1973 met to share breakfast with each other recently.

Our elementary students celebrated Chinese New Year with lion dances!

Here our students are creating beautiful art while enjoying the company of their brothers.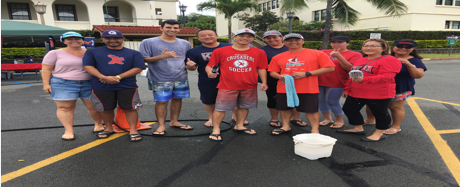 These Crusader parents are donating their time to raise funds for this year's Project Grad with a car wash.
Chevan Cordeiro won Gatorade Player of the Year! He will be playing QB at the University of Hawaii next school year.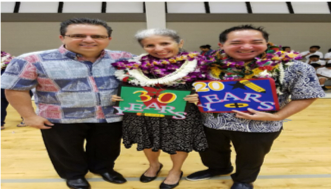 Ms. Botelho and Mr. Pa'ekukui were recognized for their many years of service in Catholic schools at the 2018 ACCE.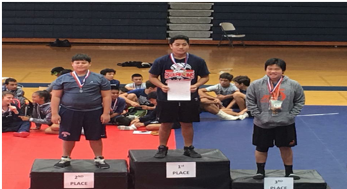 These wrestlers are winners both in the classroom and outside of it and we are very proud of them. In particular, Corey Cabanban (not pictured here) capped off his senior season at Saint Louis School as a Division 1 four-time State Champion.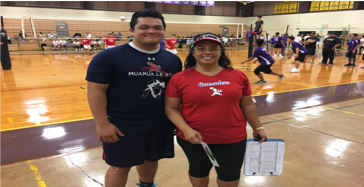 Coach Lum has made a positive impact as our new volleyball coach with our team winning several games this season.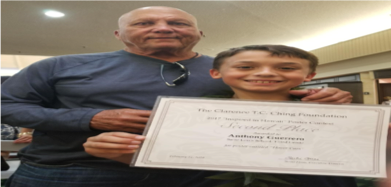 SLS graduate Tony Guerrero is pictured with his grandson Anthony after winning 2nd place in a recent writing contest.
Our JROTC cadets recently won 1st place at a flag football tournament between several schools.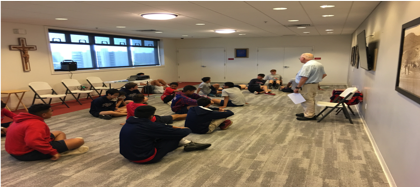 Father Allen is pictured here leading our students in a Campus Ministry retreat in the Ho'okipa Room.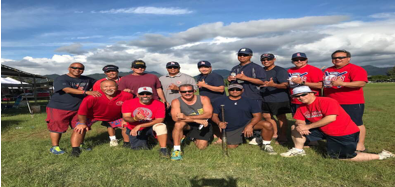 Teams of alumni competed with each other at our annual Saint Louis Alumni Association Softball Tournament.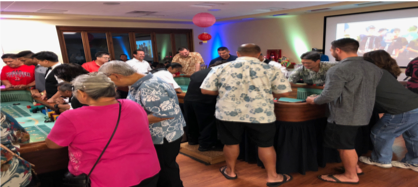 Casino Night is the major fundraising event for our robotics program at Saint Louis School.

These Crusaders entered the It's Academic Hawaii television trivia show and did a great job!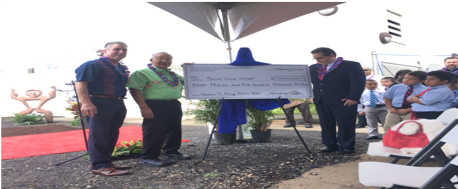 Our elementary students could not believe the check given to us by the Clarence T.C. Ching Foundation was for 7.5 million dollars.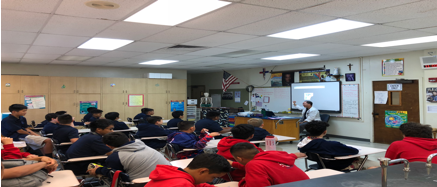 Graduate of SLS, Dr. Arnold Kop, shares his knowledge with our Crusader students at Career Day.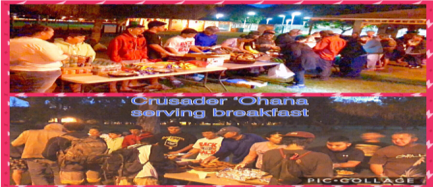 Each Saturday, our students share breakfast, pray and sing with those in Waikiki who greatly appreciate it.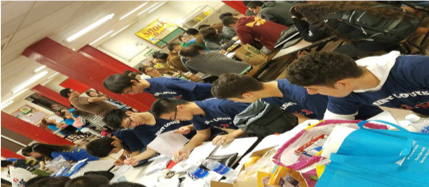 Here our SLS Math team excels at a math competition. Our Math Team consistently performed in the top three in their division..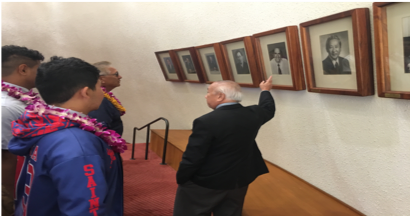 SLS graduate, Representative Say, shows our students the pictures of Crusaders who were leaders in politics.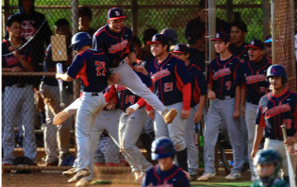 This photo was taken when our Crusader baseball team defeated MPI at a recent game.
Ms. Fung and Mr. Takashima took our MS robotics team to Iowa to compete in a national robotics competition.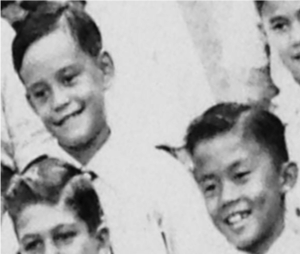 Brotherhood for Life is back now that we've reestablished our elementary school at Saint Louis School last school year. GODA recipient, Stanford Yuen, is pictured here with his classmate when Saint Louis School last had an elementary school with the picture to the left in black and white. Today, they still enjoy each other's company as brothers for life.