Spotlight on Mr. Amerino
More stories from DREDDIN VILLALPANDO
Mike Amerino has built a reputation as a widely respected art teacher at Saint Louis School over the past eleven years  He is known for his phenomenal artistic talents,and his devotion to Saint Louis. Amerino's original artistic creations are inspiring and the countless sacrifices made for his students warrant Amerino's recognition.
Amerino describes himself as a fun-loving, yet committed person, both in and outside of the classroom. "I know how to have fun," says Amerino. "But I want to fix the things that have to be fixed first."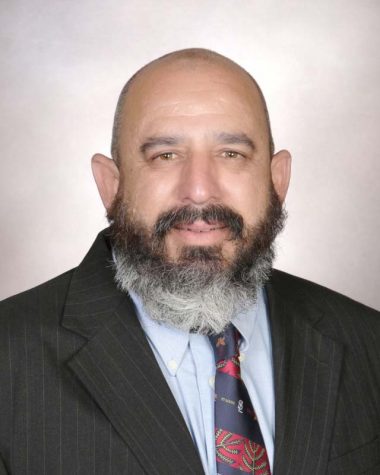 It's clear that Amerino has a deep passion for his profession and loves working with his students to develop as young artists. "I enjoy teaching and experiencing and being able to teach," notes Amerino, "even if it's not alike and just a curiosity," he explains. He enjoys guiding each student through the process of becoming an artist.  "I like to show that art is fun and it is okay where you are at now as a developing young artist and to be comfortable with your abilities at your point of time or your experience and that you can get better," says Amerino.
Out of the classroom,  Amerino enjoys his hobbies to develop his craft, spending many hours fixing and restoring motorcycles and cars.  It's "an art form in itself," he adds, "and I do other things like artwork on the side and just have fun."
Although Amerino is always thinking about his artwork, his interests allow him to relax and enjoy life. "I do bike riding also and mountain bike and definitely ride motorcycles,"
Amerino loves his family, his job, and his students, but he holds God and his faith above everything else. "I also show it to the young men here at the school, what comes first, and where we got our talents," notes Amerino. 
Clearly, Mr. Amerino is an exceptional educator and Saint Louis is fortunate to have him as a teacher and mentor to our young men.
Leave a Comment