Row, Row, Row your Boat
Hawaiian Tradition Lives On
Hang on for a minute...we're trying to find some more stories you might like.
Imagine pulling 400lbs of fiberglass through wind, waves, and current. Now imagine doing it as

fast as you can, and bumping into other 400lb vessels filled with hungry competitors. Welcome to the daily life of a Saint Louis Paddler!

Hawaiian Outrigger Canoe Racing, exclusive to these eight islands, is practiced by upwards of 50 high schools. Six paddlers and a 400+lb boat team up to race anything from three to over six miles in open-ocean conditions. This competition is like no other interscholastic sport in the nation, or even the world for that matter. Steeped in tradition and legacy, paddlers race to honor Hawaiian predecessors who used the boats for fishing, travelling, leisure, surfing, and more.

Paddling season runs from late October to early February, if crews are tough enough to make it to state competition. The Crusaders compete in a minimum of six long-distance races over a two-month period. Rankings are determined by averaging a crew's performance at each of the races. The top three crews in the ILH earn berths in the HHSAA Paddling Championships.

This season, Saint Louis' "Kana Lui Canoe Club" is full of younger paddlers looking to learn about the sport and compete with the best. Although there is much to learn, Coach Gavin Chun is confident Crusaders can compete and gain experience this season. Varsity Steersman Scott Lyons is looking to lead his crew to a successful year. When asked for comment, Scott said "We're getting ready for another productive season. Looks like we have a group of underclassmen ready to step up and work hard this season."

"

Looks like we have a group of underclassmen ready to step up and work hard this season."

— Scott Lyons

"

The Crusaders' first race is three miles to be held on December 12th, near Ala Moana Beach Park. To check in on Kana Lui Canoe Club, and all other Crusader athletics, be sure to visit the "Athletics" tab of The Collegian. Beat Punahou!"Jay Metzger"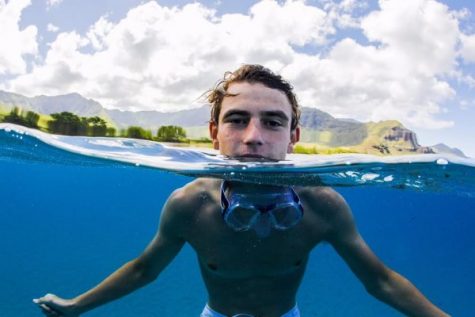 Joe Lyons, Sports Writer
I am a senior, and have been attending Saint Louis since 2011. I am a member of the Varsity Water Polo and Paddling teams. I am also a member of LIFE team...