The Crusaders Go 9-0 with a Win Over the Seariders.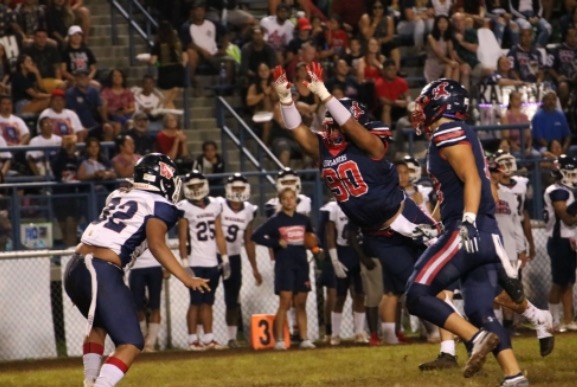 On October 11, 2019, the Saint Louis Crusaders faced a formidable opponent, the Waianae Seariders. The Seariders hosted the Crusaders at their home field at Waianae High School. The night before the game, there was a heavy rain-storm, turning the grass field to mud. The Crusaders' offense is led by quarterback, Jayden de Laura and his receivers, Koali Nishigaya, Matthew Sykes, and Roman Wilson. On the opposing team, the Seariders' offense is led by quarterback Jordan Kaloi-English and receiver Nainoa Machado.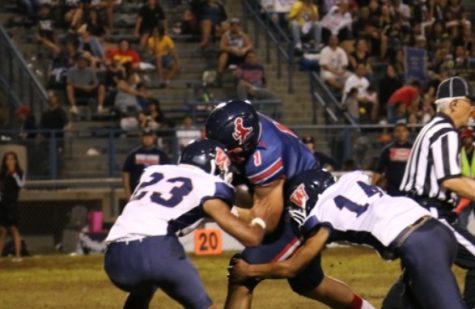 As the sun set and the stadium lights came on, the Crusaders went to battle with Seariders. As always, the Crusaders elected to defer the ball until the second half. The Crusaders dominated the game right from the get-go. The first touchdown of the game from running back, Mason Taliulu, with a 1 yard touchdown run for Saint Louis. However, the Seariders striked back with a touchdown reception to receiver Nainoa Machado. Saint Louis' quarterback Jayden de Laura dealt ample damage to the Seariders' defense. Jayden de Laura had 322 yards and 4 touchdowns in the first half. Before the end of the half came possibly the most exciting play of the Crusaders' entire season. Jayden de Laura dropped back and scrambled out to the right. As he felt the pressure from the Seariders' defense, he reversed the back to the left. Still having no receivers open, he ran all the way back to the right. As the clock hit "triple zeros", de Laura threw the ball to receiver Matthew Sykes for a 25 yard touchdown. By the end of the half the Crusaders were up 42-19.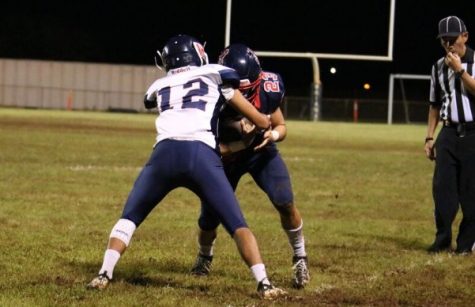 At the beginning of the second half, the Crusaders came out strong with a 51 yard fumble recovery touchdown from senior receiver Po'okela Louis. Shortly after, the Crusaders' offense scored again with a 6 yard touchdown run from running back Kaohu Kamakawiwo'ole. However, the Seariders were not giving up. At the end of the third quarter, the Seariders' quarterback, Kaloi-English, connected with receiver Tamboen-Kaeo for an 11 yard touchdown score. Later in the fourth quarter, both the Crusaders and Seariders were restricted to zero points, making the final score 56-26. The Crusaders went 9-0 in the regular season, extending the winning streak to 35 straight wins. This win also made the Crusaders the number 1 seed in the ILH. Putting them in the run for the championship, the Crusaders must wait three weeks until they play their next game on November 1, 2019, at the Aloha Stadium. Their opponent will be the winner of the Kamehameha vs. Punahou game. 
---
ScoringLive staffOctober 12, 2019. "Saint Louis Beats Waianae, 56-26, to Close Regular Season." ScoringLive, 30 Oct. 2019, https://scoringlive.com/story.php?storyid=17593.
"Open Football: Saint Louis vs. Waianae." ScoringLive, 30 Oct. 2019, https://scoringlive.com/football/gamesummary.php?gameid=4947.