Featured Teacher: December 2018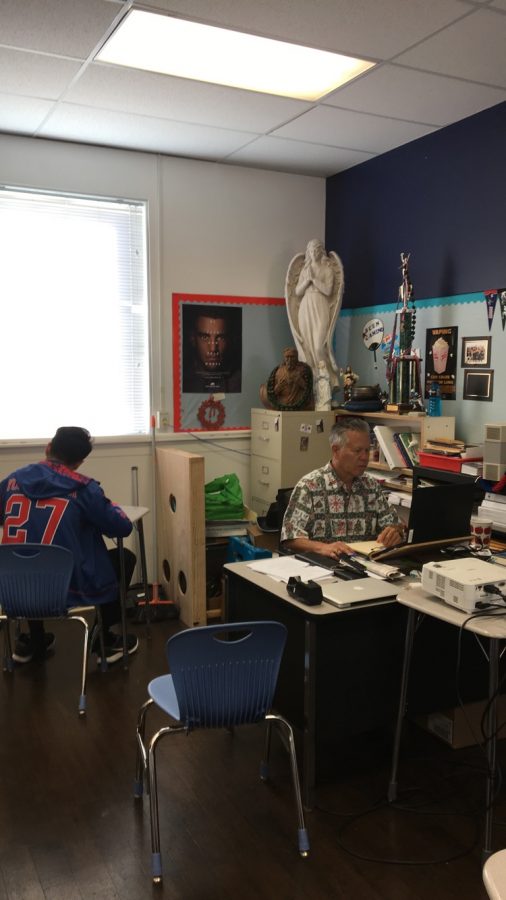 Hang on for a minute...we're trying to find some more stories you might like.
"
Don't regret doing anything in life, try new things, as long as it is legal."
— Dennis Almadova
Mr. Almadova has been awarded as the feature teacher of December. Mr. Almadova has helped change and shape students lives here at St. Louis for a long time. Growing up Mr. Almadova wanted to become a priest, when that did not work out he decided to become a police officer. That did not work out because they had put a freeze on social service hiring. From that point on he focused on becoming a teacher.
Mr. Almadova went to Leeward Community College. After going to LCC, he went to the University of Hawaii for two years and pursued education. Straight out of college in 1975, Mr. Almadova started teaching at St. Augustine. Mr. Almadova taught there for four years, and in 1979 he began his tenure at Saint Louis. He began teaching here because Mr. Jenkins told him about a teaching position being open, and the rest is history.
He has not only been a great teacher, but he has also been a class advisor. He was a class advisor for: 1984, 1989, 2004, 2011, and 2018.. At one point, was the coordinator for middle school and helped open up the lower grades, which were grades 4, 5, and 6. When asked if he had any advice for the seniors he said "Don't regret doing anything in life, try new things, as long as it is legal."